Do You Think You Have a Disc Herniation?
Don't Revert To Surgery!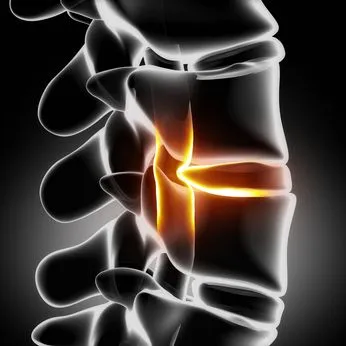 What is Disc Herniation?
First, the spine, or vertebral column, is made up of a series of bony blocks, known as the vertebrae. The spine is not considered to be a rigid structure it is able to bend and twist because there are flexible, shock-absorbing cushions or discs between each of the vertebrae. The disc are flat, circular shapes structure with a jelly-like center which is considered to be the nucleus.

When the disc begins to twist and move the strong fibers of the outer annulus can tear, allowing "leakage" of the jelly-like nucleus out of the centre of the disc. At this point, the disc is considered to be herniated. In most individuals, a disc herniation is not common but when a patient is reporting to the chiropractor about low back pain, roughly 5% is because of a herniated disc.
The pain of a disc herniation can be very severe but in most cases you will find greater pain in the leg, due to the nerve irritation, than that felt in the lower back. Chiropractic treatment has been found to be superior to application of heat, exercise, and physiotherapy. At Greater Cincinnati Chiropractic, we use a combination of highly specific manual techniques, followed by a rehabilitation exercise program, utilizing our therapy area. Here at Greater Cincinnati Chiropractic Dr. Gallentine has had much success in getting patients out of pain who have experienced a disc herniation injury. Don't wait any longer to get out of pain!
If you have been suffering from a herniated disc, please give our office a call today!