Meet Dr. Garrett Gallentine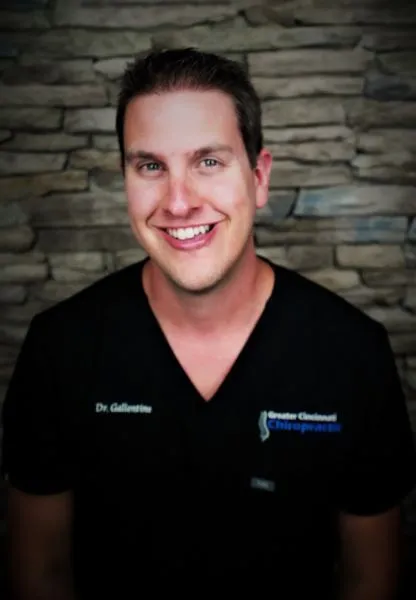 Dr. Gallentine graduated from Waynesburg University with a Bachelor's degree in Biology. He then attended Palmer College of Chiropractic in Davenport, IA. After graduating from Palmer in February 2013, he moved to the Cincinnati area and opened Greater Cincinnati Chiropractic. His mission was to help the greater Cincinnati area and has devoted his time in doing so ever since. Dr. Gallentine believes pain is inevitable but living and suffering with pain is an option.
Dr. Gallentine views wellness from a holistic perspective. His concept of wellness consists of using Chiropractic as the foundation for wellness. With this foundation, he believes other aspects of health like nutrition, exercise, stretching, strength training and patient education can be incorporated into the Wellness model. He believes that to be well requires getting adjusted on a regular basis and having an optimal functioning spine and nervous system: This equates to optimal health. If the nervous system is not functioning as well as it could be, the body is in a state of "dis-ease." The absence of symptoms does not, therefore, equate to health. He believes that wellness is the optimal functioning of mind, body and spirit.
Dr. Gallentine's goals also include educating the community on the benefits of chiropractic and how the body can heal itself, if allowed to function at its optimum capacity. He wants to help the Cincinnati community by enabling them to enjoy the benefits of chiropractic that he experiences on a daily basis, such as better health, lack of disease, life without medication, no allergies, a healthier life when he gets older, and the ability to exercise without concerns of pain. Dr. Gallentine wants everyone to have the freedom to live life. His desire is to change the concept of "sick care" to "health care." He wants people to view Chiropractic as part of a preventative, proactive lifestyle resulting in overall wellness.
When I'm not in the office, you will find me spending time with my wife, family and friends and also my two black labs, Peaches and Piper. I enjoy being outdoors, salt-water fishing and hunting.
More about Dr. Gallentine: What inspired you to become a chiropractor? During high school I suffered from an injury and didn't want to go the route of surgery so a family friend recommended I see a chiropractor. Shortly after visiting the chiropractor, I experienced amazing results and started to see other areas of my health improve. Needless to say, that experience shaped who I am today and why I decided to become a chiropractor.
Favorite place to travel outside of Cincinnati, OH? I enjoy visiting the east coast for their beaches as well as anywhere along the water in Florida. I often am finding myself visiting my parents in Fort Myers or Fort Lauderdale for fishing.


Meet Dr. Michael Hekler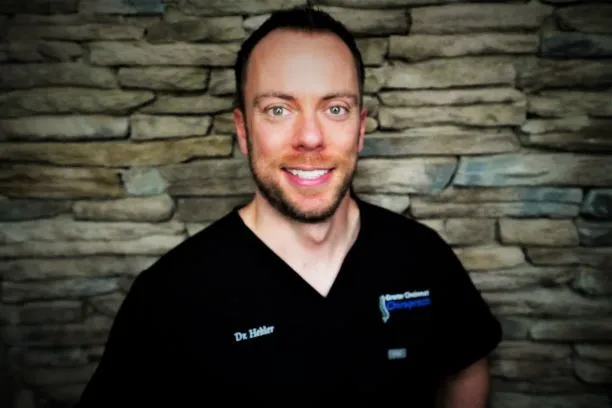 I knew from an early age that I wanted to become a doctor and help people live happier, healthier lives. While pursuing that dream at Miami University and preparing to apply to medical school, I gained an even greater appreciation for the beautiful harmony that God created in the human body. All the parts of the body interact with each other, the food we eat, the air we breathe, the exercise we do (or don't do), and the thoughts in our head to produce either health or disease. The human body has inborn within it an amazing healing potential, and all we have to do sometimes is remove the interference to this potential and allow the body to heal itself.
I started to see a chiropractor myself during this time. And as I asked a million questions, the light bulb came on and I knew I found my calling. My passion is to not only help people suffering from back pain, neck pain, headaches, etc. but also to help them reach their optimal health without the use of drugs or surgery. The entire family, from newborn babies to grandma and grandpa, can benefit from chiropractic care.
After graduating from Miami University, I then attended Logan College of Chiropractic in St. Louis where I earned my Doctorate of Chiropractic. I moved back to my hometown of Cincinnati and have been practicing for over 10 years. When I am not in the office, you will find me spending time with my wife and son, outdoors with our two dogs, or rooting on my favorite sports teams.
More about Dr. Hekler:
What inspired you to become a chiropractor? From an early age I always knew I wanted to become a doctor. What better way to make a living than to help people lead healthier, happier lives?! While in undergrad and preparing to apply to medical school, with all I was learning about how the human body works I realized that there had to be a better way. We were not born with a deficiency of Celebrex or Lipitor. The more I learned about chiropractic and how it focuses on the entire person and their lifestyle, I knew I had found my calling. There is no better feeling than helping patients reach their full health potential.
what is the most valuable lesson you have learned in your life thus far? To live by the Golden Rule not only in my personal life but also in my professional life. I truly care about my patients' well being, and give them the same level of attention and care as I would hope myself or my family would receive.
What is your favorite place to eat in Cincinnati? My wife and I love the sushi at Kyoto. If you haven't tried it, I highly recommend it. We also really enjoy the food at Wildflower Café, which uses fresh and pure seasonal ingredients, purchased from local and organic farms.
Meet Dr. Nicholas Estep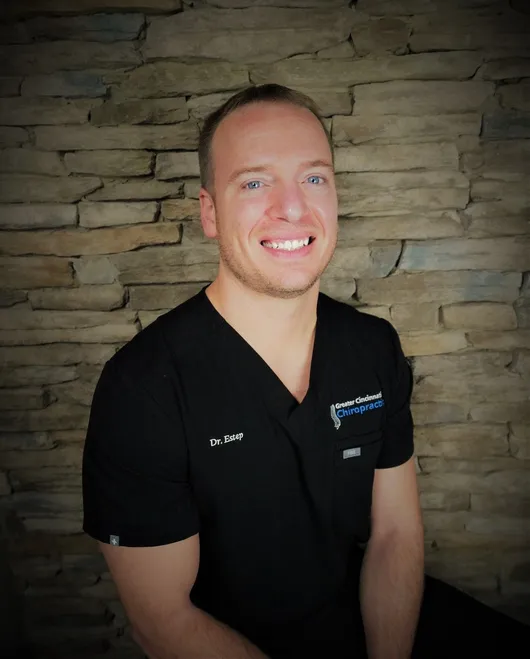 Dr. Estep grew up in a small town along the Ohio River and attended West Virginia University, where he graduated with a Bachelor's degree in Exercise Physiology. While working as a personal trainer right out of school, he began to see a chiropractor for help with minor low back issues and began to see great results. Always knowing he wanted to be in the healthcare field, he began to pursue the wonderful profession of chiropractic. He then attended Life University in Marietta, Georgia and graduated with a Doctorate of Chiropractic in 2015.
Dr. Estep began his profession as a Chiropractor in Knoxville, TN, where he spent the last three years helping and educating patients. He loves being able to connect with his patients on a personal level and help them achieve their optimal health without the use of drugs or surgery. Dr. Estep has always loved educating his patients about the importance having a healthy nervous system, which controls everything that we do, from our every day movements to our digestion after a meal. Chiropractic, lifestyle counseling, nutrition, and exercise should all be utilized to address the physical, mental, spiritual, and emotional aspects of health.
While in Knoxville Dr. Estep met his wife who grew up in Cincinnati and he has recently relocated to the area.
More about Dr. Estep:
What inspired you to become a chiropractor? I had a close friend who experienced a severe football injury in high school and had been helped out with chiropractic care, after the medical route did not work. After many years of education, I realized that Chiropractic was the best way to treat a patient and not just cover up the symptoms.
When not in the office... When Dr. Estep is not in the office, you can find him spending time with his wife and pup Mack, enjoying the great outdoors - fishing, hunting, golfing and mountain biking.
Favorite thing to do in Cincinnati? I enjoy attending the sporting events in town, especially when Pittsburgh visits the Queen city.